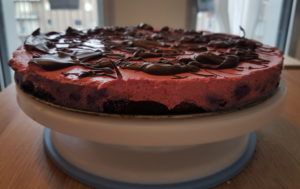 Recipe taken from: https://youtu.be/f06hBsEpb_0
Occasion: the end of Bartek's interview
I liked the base cake in this recipe. It's very reach chocolate cake and it mixes nicely with the very light and fruity muss.
As for the muss I want to improve and therefore I am not giving any recipe here as yet.
Ingredients:
3/4 cup (100 g) wheat flour
2/3 cup (140 g) granulated sugar
1/4 cup (30 g) unsweetened cacao powder
1/2 ts (2.5 g) baking soda
1/4 tsp (1.25 g) salt
1/4 cup (60 g) cool unsalted butter, cut into pieces
1/2 cup (120 ml) milk
1 large egg (room temperature)
1 tsp (5 ml) vanilla extract
Preheat the oven to 180 C. Grease a 23 cm cake pan and line the bottom with parchment. Dust the sides of the pan with flour, tapping out any excess flour.
Sift the flour, sugar, cocoa powder, baking soda and salt into a large mixing bowl or into the bowl of a stand mixer fitted with the paddle attachment. Add the butter cutting it in (if in a large bowl, use electric beaters) until the mixture is a fine crumble (like the texture of fine breadcrumbs) and no large pieces of butter are visible.
Stir the milk, egg and vanilla together and add it all at once to the flour mixture, blending until smooth and then increase the speed to medium and whip until pale and thick, about 3 minutes. Pour the batter into the prepared pan and tap it on the counter to eliminate any bubbles.
Bake the cake for about 30 minutes, until a tester inserted in the center of the cake comes out clean. Cool the cake for 20 minutes in the pan, and then tip out onto a cooling rack to cool completely to room temperature. The cake can be baked a day ahead, wrapped and stored at room temperature before assembling.