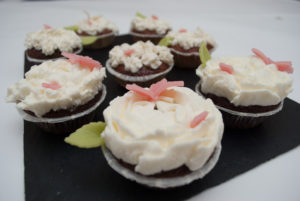 It is birthday time in my little family. But we don't make huge celebration out of it. Just something small. My husband, our kids and me. No cake. Just cupcakes. But then they have to be beautiful!
In search for a light, not-too-sweet cream for cupcakes I came across few mascarpone receipes. I wanted this cream to look beautiful but at the same time I didn't want to use buttercream which is heavy, sweet and which contains raw eggs. But at the same time it didn't have to last for very long as I planned to serve it on the same day at our home. And for my purpose it was perfect!
Ads:
Very easy to make
Looks nice
Lighter than buttercream
Add as much or as little sugar as you wish
Cons:
Does not keep well (eat on the same day, keep in the fridge type of cream)
Glaçage mascarpone + whipped cream for cupcakes receipe:
ingredients:
150 g crème liquide (full fat) to make whipped cream (very cold)
100 g mascarpone (very cold)
powdered sugar (as much as you wish)
colorant or vanilla flavor (optional)
Whip crème liquide and mascarpone until it is of the consistency of the whipped cream. Add the rest of the ingredients, mix.
That's all. Simple as that. Now the cream is ready for decorations.
Keep in the fridge before serving.